The project «Tomsk horse» was founded in June 2018.
In the long search for ideas for a souvenir that reflects the color and atmosphere of our city, we turned to the history of Tomsk. The Great Siberian Tract, or the Great Tea Road, played a significant role in its development. On this way tea and other goods went from Moscow through the Far East and Siberia. The cities that were on the Great Tea Road had a special state significance, their coat of arms was topped with a crown, and they were obliged to be a carrier and support the exchange of goods between Russia and China.
Tomsk has always been famous for its horses throughout the Siberian Route due to local horse plants. Therefore, on the emblem of the city there is a silver horse running across a green field – a symbol of Tomsk.
Another no less striking feature of our ancient Siberian city is the preserved monuments of wooden architecture. Once these mansions were built for themselves by Russian merchants and owners of carriage companies, as well as Tatars and horse breeders. They decorated houses with lush carvings and intricate wooden lace. In the decoration of buildings a typical for Tomsk mixture of Empire style, Siberian baroque and Tatar ornamentation is well read.
These historical realities of Tomsk have become the basis for the idea of the project «Tomsk horse». A model of a wooden horse and style directions of its painting were developed: from patterns based on Tomsk wooden architecture to patterns with ethnic ornaments. Our products are unique, as each horse is made and painted by hand, which means that there can't be others just the same.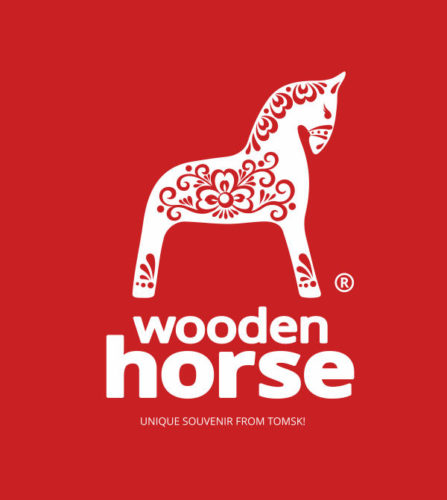 Address
Russia, Tomsk Gertsena St. 72 b
Contacts
reklama@rde.ru +7 3822 52-10-01
Payment
Cash Non-cash Robokassa
Do you have questions? Write to us!